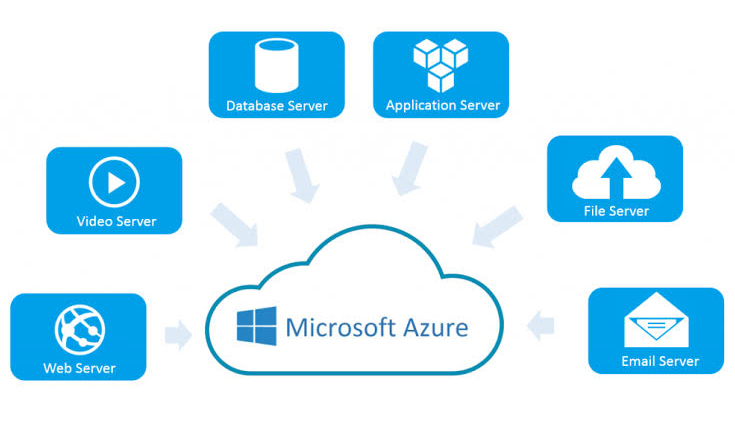 Microsoft Azure may be a cloud platform for strengthening, utilizing and managing services and applications, anywhere. It allows you to feature cloud capabilities to your current networks through its Platform as a Service (PaaS) model or assign Microsoft with all of your computing and networking desires with Infrastructure as a Service (IaaS). Either of the choices will provide you with secure and reliable access to cloud-hosted data which is made on Microsoft's proven design.
Fanatical Support for Microsoft Azure is the answer for businesses facing these challenges. Techastrum blends technology and automation with seasoned consultants who deliver in progress design, security and 24x7x365 operations. Gain access to several Microsoft-certified engineers and designers, so you'll get the most out of your cloud investment. Service of Microsoft Azure
We as a Microsoft Azure Partner in India can help you design, build and manage Azure solutions that are customised for your business.
Migration
Whether your application is on-premise or the other public cloud. Move to Azure for free without any hiccups.
Design Support
Worried about what to use? Our specialists help you with the best design for your workloads.
Resource Optimization
We help you choose the right tools in azure to optimize value and performance.
Managed Services
Better Manage Services your workloads with complete Access of Microsoft Azure Console.
Automation
Get the mundane out of your work. Get a FREE consultation on a way to leverage Azure Automation services.
Monitoring Services
An essential pillar for business continuity is observation. we help you get the proper insights with Microsoft Operations Management Suite.
Premier Support
Get access to Microsoft Premier Support through us. quick ETA means that higher business.
What you can do with
Microsoft Azure?
Mobile

Connect with your customers wherever they're. produce tailored experiences based on your customers' interests and behavior. Reduce your time to market with cloud services, tools for delivering mobile solutions.

E-commerce

No matter what you sell, you would like secure and scalable e-commerce solutions that meet the demands of both your customers and business. have interaction customers through customized products and offers, process transactions quickly and securely, and focus on fulfillment and client service.

Big data and analytics

Deliver better experiences and create better selections by analyzing massive amounts of data in real-time. Get the insight you need to deliver intelligent actions that improve client engagement, increase revenue, and lower prices.

Predictive maintenance with IoT

Predict equipment failures before they happen, and consistently prevent them from millions of machines across the globe. Use streaming data from sensors and devices to recognize warning signs, predict equipment maintenance desires, and preemptively repair equipment, saving you time and cash.

Development and Test

You're delivering more options faster-keep up with a comprehensive set of development and testing tools for your team to collaborate and deliver at cloud speed. Quickly produce consistent development and check environments on your terms through a scalable, on-demand infrastructure.

Disaster recovery

Even a minor outage will place you at a competitive disadvantage. So, be prepared with a business continuity plan that features disaster recovery for all of your major IT systems without the expense of secondary infrastructure.

SharePoint on Azure

Not ready for SharePoint on-line yet? No problem. Host your SharePoint farms in Azure, scale quickly supported demand, and save on infrastructure prices. whether it's for development, testing, staging, production, or disaster recovery functions, Azure is a good home for your SharePoint workloads.

Digital marketing

Engage with customers around the world with made, customized digital marketing experiences. Quickly build and launch digital campaigns that automatically scale supported client demand. Analyze and improve campaign effectiveness with the ability of data analytics.

Business intelligence

Transform your company's knowledge to support informed deciding. Gain deeper insight into your data to remain within the recognize and spot trends as they happen. With modern business intelligence, your entire organization will understand and quickly act on data.

Data warehouse

Today's data-driven world needs a new kind of data warehouse solution. One which may really scale on-demand and pause when not in use, handle exponential data growth across all kinds of information, protect access to your data, and deliver predictive analytics for true business transformation.

Remote monitoring with IoT

Bring the internet of your things to life. Connect and monitor all of your devices and sensors. Increase visibility into performance and potency, plus modify innovation and improve business outcomes through previously untapped information.

Backup and archive

Protect your data and applications no matter wherever they reside to avoid costly business interruptions or to meet compliance necessities. securely extend your on-premises backup storage and data archive solutions to the cloud-reducing price, while achieving efficiency and scalability.

SAP on Azure

Quickly deploy SAP solutions across dev-test and production scenarios on the most comprehensive cloud platform-providing uncomparable performance for even the biggest SAP workloads.